Generate A 10 Minute HD Video In Less Than 20 Seconds!
Combine Images & Videos
VSB pro gives you the possibility to combine both image and video slides, to create stunning new videos!
Multiple Unique Videos
When generating the video, you can tell Video Spin Blaster Pro to randomize your video slides. This will help generate hundreds of unique videos that you can upload on YouTube.
Human Voice
Using the latest state of the art text to speech engine, VSB Pro will automatically turn the text from your slides to sound, using a very natural human like voice.
Download Audios & Images
Start downloading copyright free images and audios from various online source, and add them in your own video. Don't have the graphics for your new video yet? Just download them free!
Spin Your Existing Videos
YouTube requires fresh and unique content, and with the help of our product you can make multiple unique videos from the same original video. Upload the same video on YouTube multiple times to do split testing.
Offline & Online Business
The fastest and easiest video creator software is for you, either if you are doing online or offline marketing. Start promoting your business with the videos created fast using Video Spin Blaster Pro.
We and our clients uploaded over 1 million videos in the last years!
Without having to waste a ton of time creating unique videos and waiting an eternity for them to render.
And to make things even easier, we included a revolutionary natural sounding Text-To-Speech system that will bost your conversions !
They say a picture is worth a thousand words, than the videos above will make you understand the power of this tool…
Take a look at this video samples created with Video Spin Blaster PRO:
Promoting Offline Business
NOTE: The voice from the videos is automaticaly generated with our revolutionary Text-To-Speech engine!
You can use Video Spin Blaster for:
Stunning Image and Video SlideShows
Amazon Product Review Videos
Spin one video file into 1000 unique videos.
Human like Text-To-Speech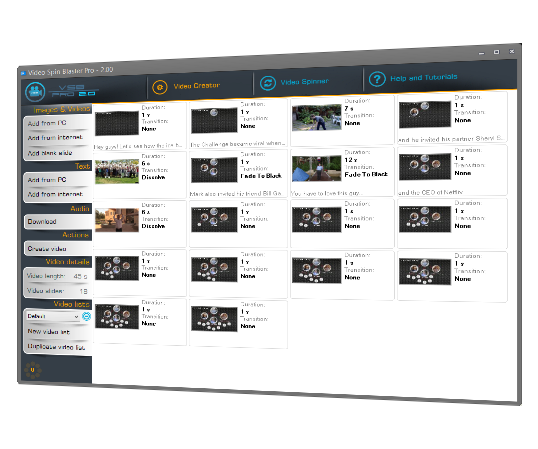 Everything without having to learn anything new, or WAITING an eternity to render your videos…
Let me give you a quick example. Creating a slideshow video using Camtasia that will have the length of 10 minutes and will contain about 20 slides, will take at least 30-50 minutes to do. Of course this depends on how quick you move on your PC. With VSB Pro you can actually create a 10 minute long video in less than 2 minutes. In this 2 minutes I include the downloading of images, of sounds and adding text and a watermark to the video. The actual render of the video take less than 10 seconds. Incredible right?
Generate videos with image and video slides
Export videos as PPT slideshows
Make hundreds unique copies from one video
Transform articles to videos with voice over
Add human like voice generated from text
Generate 10 minute HD video in less than 10 seconds
In the world of Video Marketing
Time is Money!
VSB PRO 2 is all about SPEED
We all know that if you want to do video marketing, mass is the KEY. Creating videos with the  traditional softwares is not only inefficient, but also hard and slow.
And if you are doing YouTube marketing you will know that it's impossible to upload the same video multiple times (to traget different niches) because that video will be detected as duplicate.
Again, Video Spin Blaster Pro 2 is here to help. Not only you can create tons of videos from the same slides by randomizing them, but if you already created a video (with any video creation software) you can SPIN IT.
By spinning a video Video Spin Blaster Pro 2 can generate thousands of unique copies of that video file, so YouTube does not detect the files as duplicate.
With an uniquie algorithm Video Spin Blaster Pro 2 will re-encode the video and append random color pixels so it totally modifies the video in the eyes of YouTube.
Buy what good is speed without QUALITY
We worked months to make sure that it will be very easy, even for a child to create stunning looking videos with Video Spin Blaster PRO 2. Every video creator that will allow you to create high quality videos is very hard to master (a lot of timeframes, hard to achive effects,etc) so we had to keep our software as simple as the first version but allow you to create dynamic videos fast and easy. That's why we included a series of new features and improved a lot of the old features:
Combine video and image slides to make your videos more dynamic
Improved Text-To-Speech engine, giving it a real human voice
Multiple audio streams, allowing you to add speech and background music
New high quality video effects
Multi langauage TTS support
About Quality…
Check out this video created with Video Spin Blaster PRO!
Video Spin Blaster is the best Video Creator software!
Maybe I'm subiective, but thousands of satisfied clients can't be wrong!

BartsTreasures
WoW it WORKS! (better & easier than advertised!) 1st let me say that before today, I'd NEVER created a single video! I'm a COMPLETE NEWBIE and definitely NOT a "techie" but WITH this software, I created 5 AWESOME videos in about 8 minutes! WoW!

NBAY
Just purchased and tested your software. Not sure about the original version as I did not purchase that one but this one. This one, is a work of art. Definitely NBAY.COM approved.

Nile Vincent
Fast and Easy video production at it's best

…and I mean quick and easy!!!
Vlad's

Video Spin Blaster Pro

" is the software we've been dreaming about!
Do you want to get those videos up on YouTube or any of the other video
distributing sites?…and have your images, audios and anything else relating
to

your production spreading viral in a matter of minutes

…?
This can be done

…

and thousands of variations with no technical issues

…
bluecoyotemedia
Vlad is one of the few developers that has been around the block and fully supports his customers.. very few people that I just say take my money when he launches something

Kal B
Honestly, I did purchase software with similar quality and complexity before but I have never seen these three things in one bundle: 1, Quality software built on a great platform 2, Premium support, pretty much with your own developer 3, Such a low price point. Under $50 ??!!??
Svetits
Just purchased. This is a masterpiece software at a very good price too. I love the quickness of speed with which it functions and thanks a lot for making this a WSO and a complete package all by itself.
What are you waiting for?
Get Video Spin Blaster PRO right now and start creating videos and rank them with Video Marketing Blaster PRO!
We are giving you a no brainer price…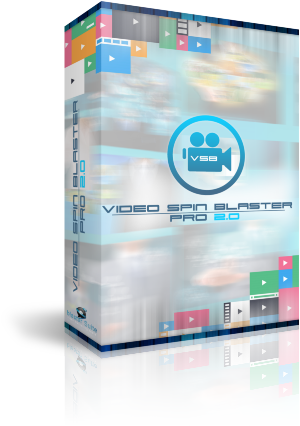 Check out some of the features of VSB Pro and you will understand why our friends think that we are crazy…

Get
Video Spin Blaster PRO

right now

or you will regret

this for years!
ALL TRADEMARKS AND LOGOS ARE THE PROPERTY OF THEIR RESPECTIVE OWNERS.
THIS SITE AND THE PRODUCTS AND SERVICES OFFERED ON THIS SITE ARE NOT ASSOCIATED,
AFFILIATED, ENDORSED, OR SPONSORED BY ANY BUSINESS LISTED ON THIS PAGE NOR HAVE
THEY BEEN REVIEWED TESTED OR CERTIFIED BY ANY OTHER COMPANY LISTED ON THIS PAGE.